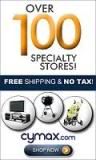 Most of us will never have the amount of kitchen space that we would like, as I know I don't. It's also no secret, that many new homebuyers
want
large kitchens. So, when I found out that
Cymax Stores
also carries breakfast bars/kitchen carts, I really got excited because I could expand the space in my very own kitchen without even picking up a hammer. When you can't afford to remodel your kitchen, one of these carts could be the solution to a space problem! I really like
the breakfast bar
pictured below because it's very compact, and would be great for breakfast with your significant other or a perfect place to have a friend over & enjoy some coffee. Can't you just envision sitting at this bar together, having great conversation & munching on some delicious muffins, juice & coffee or whatever your heart desires?
This
black kitchen cart
below could definitely come in handy to give you that extra "work station/prep area" in your kitchen. I know I don't like to be crowded with limited counter space when I'm preparing a meal, so this cart could definitely help me have room to spread out.
If you choose to put the kitchen cart in your kitchen, the last thing you would want to do is chop vegetables, meats, etc. directly on that gorgeous wood top, so I have a solution for that. Check out this awesome line of
wooden cutting boards
to prevent scratching your beautiful new kitchen cart.
So, if you are in the market for some kitchen essentials to help you save on space, be sure to check out
Cymax Stores
for all of your kitchen needs & more!
Spread the word to your friends as well about this fantastic company!
(Click the sponsored by Cymax stores button at the bottom of this post to see their huge selection of products!)
You can also become a fan of Cymax Stores on Facebook (if you like) here:
LIKE CYMAX STORES ON FACEBOOK

Or follow Cymax Stores on Twitter here:
FOLLOW CYMAX STORES ON TWITTER
*The opinions in this review are my own and I was not influenced in any way by Cymax Stores. It was my idea to link them on the various social media outlets as well. I would like to thank them for giving me the opportunity to do this review for their company