I hope everyone is having a wonderful 4th of July!!
I am doing some remodeling here around my blog lol
Go ahead and look around and please let me know what you think!
Here is a pic of some pics I found in my mom's old photo album (I still need to scan them in now that I have a scanner lol) This is me and my two brothers John & Waylon having a July 4th program for my Mom in around 1991!:) Aren't they just TOO cute?
ahhhh memories!:)
I also want to say a HUGE THANK YOU to my dear friend who gifted this amazing prize to me!!! She knows who she is!! Thanks Momma;)hehe
It's a HUGE fortune cookie(personalized fortune) from
Fancy Fortune Cookies
I snapped a pic when it arrived before our family dug in haha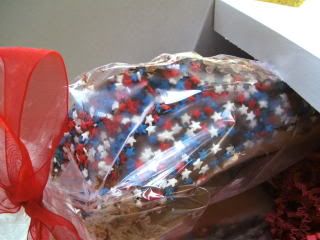 thanks for stopping by,